Immanuel's history, started by a dedicated group of German families, is a long and storied journey. These families traveled across the Atlantic to their new homes in Michigan. For many years, they attended a Lutheran church in Lansing but eventually requested to form their own church in Grand Ledge. The first church was built in 1872 on North Clinton Street at Torrey Street using building materials gathered from member and local farms and properties.
Although its growth during the first 63 years was slow with the congregation being served by pastors from Woodland, MI and Lansing, it continued to prosper. Many hard-working, dedicated people shared their time and talents to follow God's plan for them and in 1934, the congregation was able to call its first full-time minister, and services were held in English rather than German.
In the following years, growth was more swift, programs and properties were added, and Immanuel's history became its future. Of the first families – Maier, Berner, Dingler, Kebler, and Richard – some still have descendants as members.
During its formative years, the church was referred to as several names until in 1977 it was finally named Immanuel Lutheran Church of Grand Ledge.
In the summer of 1950, a new church was built in its current location and was dedicated in March of 1951. That building served the congregation until 1989, when an addition/expansion was done to accommodate a growing and active church community. A larger sanctuary, fellowship hall and classrooms were added. In 1991, a memorial/prayer garden was added as well, just in time for the 125th anniversary celebration in 1996.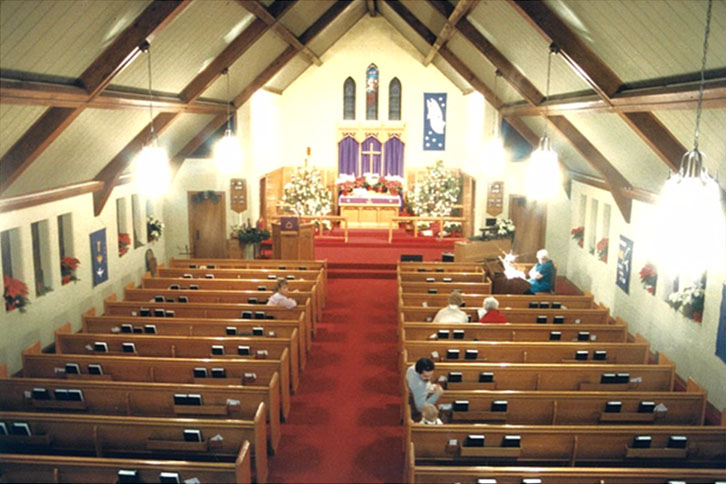 Immanuel's strength has always been in its people, and serving the community as well as the congregation. Many events and fundraisers supporting local as well as national causes have been successfully carried out. Everything from donating to international organizations that supply aid around the world to supporting local emergency care workers and providing meals to needy local residents have been consistently and enthusiastically supported.
Christian education has also been the center of Immanuel's outreach. Many years of Sunday school, communion and confirmation classes, and youth and adult programs have been provided not only by the pastors, but by volumes of volunteers and teachers focused on spreading Jesus' good news both within the congregation and community. There have also been many shared programs with other faith communities in the area.
During the COVID-19 pandemic, the congregation quickly adjusted to provide services electronically through on-line portals as well as radio broadcasts for those who chose to attend in the parking lot. Even through the worst of times, Immanuel and its members have shown resiliency in spirit and good works. We are a congregation truly blessed, and we celebrated our 150th anniversary in 2021! At the celebration event held in September, a symbolic burning of the $0.00 mortgage was done following a lovely service and outdoor luncheon to commemorate the day.
As we look to the future, we hope to be able to safely come together again, but we understand that our church is not just "the building." Rather, it is the embodiment of God's people in spreading love and the good news of Jesus' life, resurrection, and grace that surpasses all understanding. May you join us in
that celebration.
Pastors Who Served Immanuel
| | |
| --- | --- |
| 1871-1873 | Rev. Henry August Wieltzon |
| 1873-1875 | Rev. Frederick Gerkensmeyer (resident) |
| 1875-1883 | Rev. Carl Adams (Woodland) |
| 1883-1889 | Rev. John M. Eiperle (Lansing) |
| 1889-1904 | Rev. Wm. Kramer (Lansing) |
| 1904-1911 | Rev. Frederick Kittel (Woodland) |
| 1912-1918 | Rev. G.F. Klindworth (Woodland) |
| 1918-1920 | Rev. Ernest Quail (Lansing) |
| 1920-1924 | Rev. E.G. Leyer (Lansing) |
| 1924-1928 | Rev. C.G. Althoff (Lansing) |
| 1928-1934 | Rev. G.C. Bubolz (Lansing) |
| 1934-1938 | Rev. Floyd L. Yokers |
| 1938 | Rev. Elmer Klingensmith |
| 1938-1947 | Rev. Leo P. Heintz |
| 1948-1953 | Rev. William Young |
| 1953-1960 | Rev. Arno Schelper |
| 1960-1963 | Rev. James Voelker |
| 1963-1975 | Rev. Walter Priebe |
| 1975-1983 | Rev. Leroy Beck |
| 1984-2011 | Rev. Richard McKenzie |
| 1995-2000 | Rev. Paul T. Pretzloff, Visitation Pastor |
| 2000-2002 | Rev. Cynthia Olson-Larson, Associate Pastor |
| 2011-2012 | Rev. Dawn Donato |
| 2012-2014 | Rev. Galen Knutson, Interim Pastor |
| 2014 | Rev. Erick Johnson, Interim Pastor |
| 2014-present | Rev. Charles Foerster |